Woot! Woot!!
Got a new album to add to my collection...
Avril Lavigne: Under My Skin.. Below is a picture of it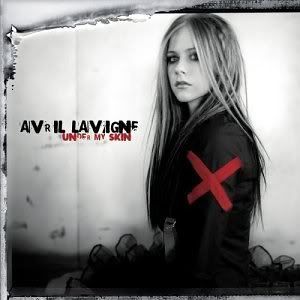 Got a haircut today too, hair was getting too long and I don't want to get barbacued tomorrow when I go to Sentosa.
Yep. Tomorrow the class is going to sentosa after our physics and chemistry extra lessons.
Not supposed to have extra lessons, but it was all thanks to the last minute mid-year exams that we are now behind schedule. Well at least there is something to look forward to provided it does not rain tomorrow. If it rains, we'll be stuck at orchard just like the last time.

Went to the doctors today. Found out I got gastric problems. Got a ton of medicine. One of them was damn expensive. It was $1 a pill... the only pill I know that is more expensive than that is v.... erm... I better not mention it.

Did some editing to my site again. Added some more links under "Listings". Also did some background script editing in hope that it will finally be certified W3C approved XHTMl.

Took a look at some bowling videos from a link found at Marian's blog. The ball rev and and release is so dream-like. So ideal. Dunno how long I have to practice before I get the same release and rev. All this talk about bowling is making my hand itch - itching to go bowling now.....